revolution responsive parallax multipurpose muse template
Revolution - Responsive Parallax Multipurpose Muse Template
---
---
About Revolution
Revolution Muse template is your Ultimate Tool to create any website you can imagine. It includes all sections and pages which you can combine to build your own dream Muse Website. And if all included elements aren't enough, Revolution includes additional page with Extra Elements that contains loads of additional custom designed sections. Read on and see all amazing features this Muse Template offers. Revolution is a professional Adobe Muse Multipurpose Template with Clean and Modern design and hundreds of custom features and pages. It's easy to use and comes with all the latest features Muse can offer plus custom features some of which are unique to our theme like custom CSS Animations, SnazzyMaps, Font Awesome icons, 40 Edge Animate Animations, PSD Mock Ups, Ecwid Online Store (e-commerce), Video Backgrounds, Full Screen Slide Show, Hero Slider with custom layouts, ONE-CLICK Theme Color Change and more. This responsive adobe muse template is great for business, creative, corporate websites, professional design studio, photo studio, digital agency, freelancers, portfolio website, media production company, cause organisation, NGO website, lawfirm and more… It includes a Revolutionary Adobe Muse Full Screen Slide Show, Adobe Muse Video Backgrounds, Adobe Muse Hero Slider with predefined layouts and custom animations. Template also includes LAWYER/LEGAL PRACTICE adobe muse template and BUSINESS adobe muse template, two additional completely free templates using Revolution's architecture. !!! Warning: THIS IS AN ADOBE MUSE THEME, NOT A REGULAR WEBSITE. TO PUT IN IN BEST USE YOU WILL NEED ADOBE MUSE. CREATE BEAUTIFUL WEBSITES FAST AND EASY WITHOUT WRITING A LINE OF CODE WITH ADOBE MUSE.
Features: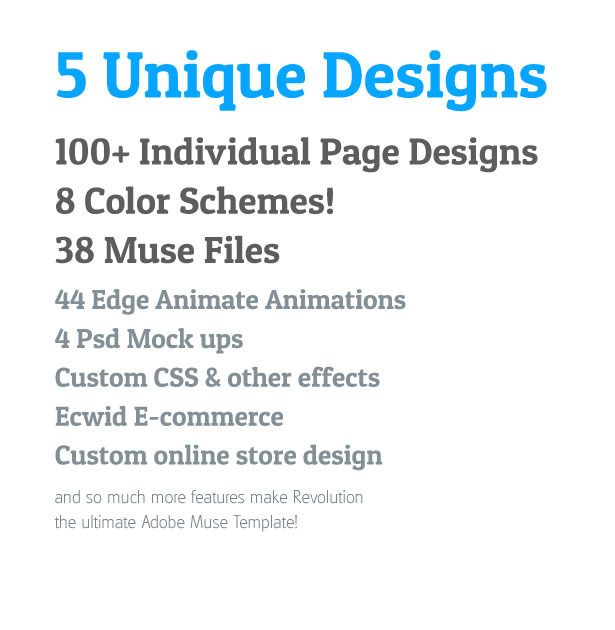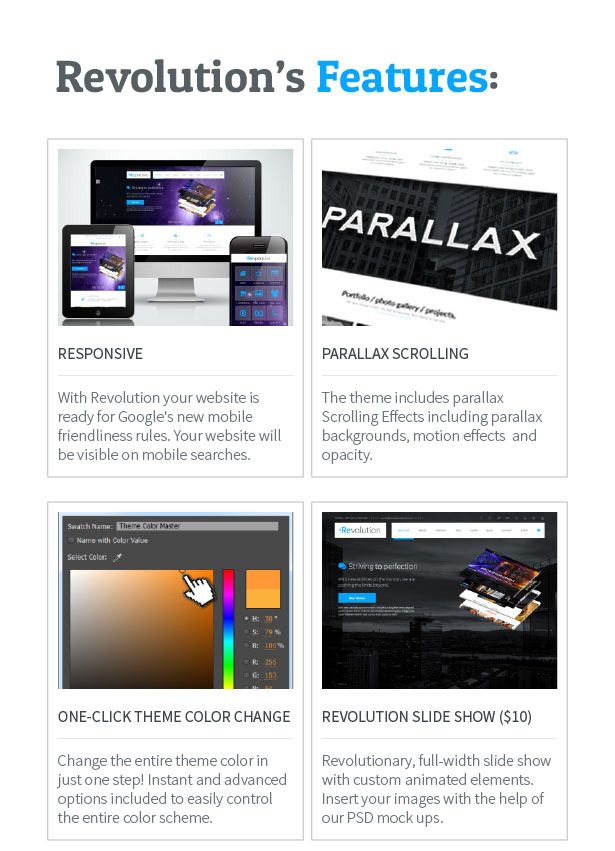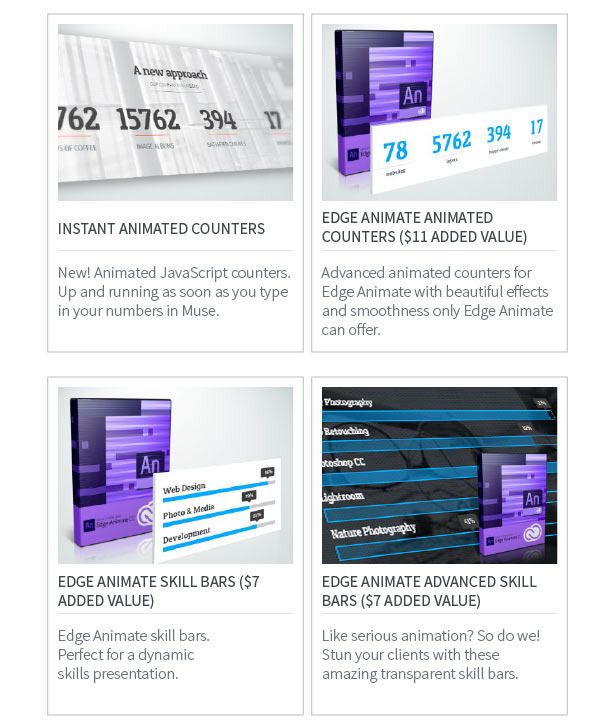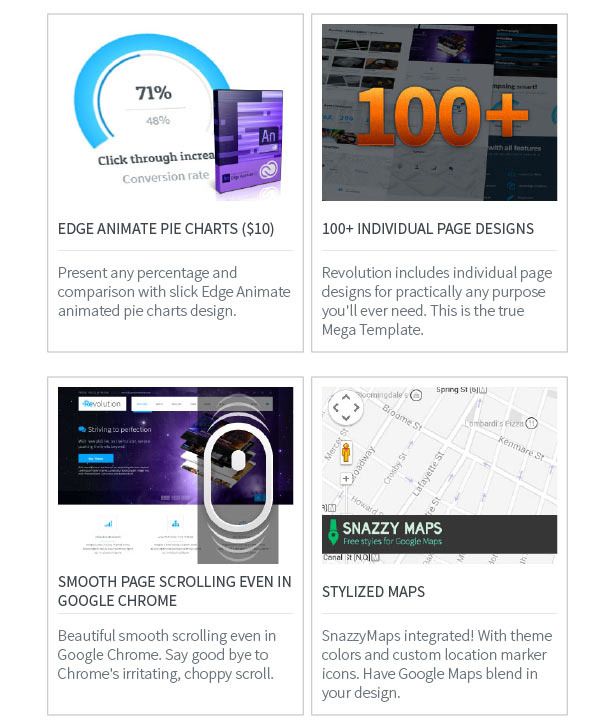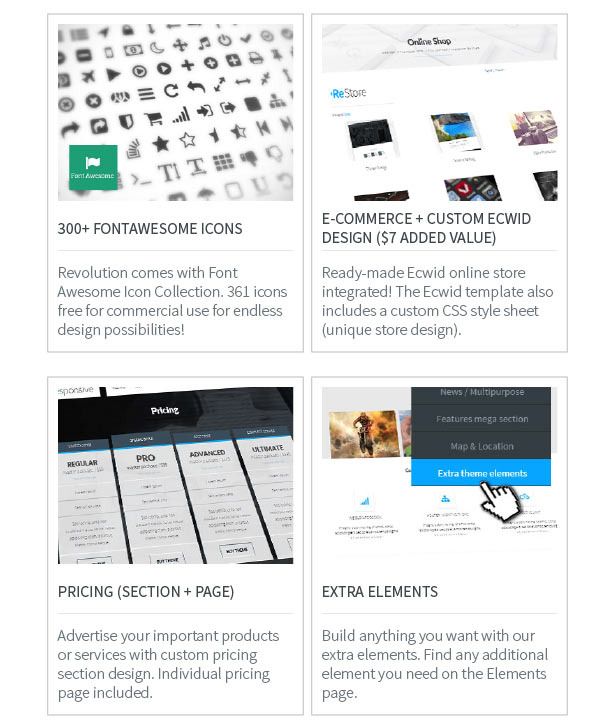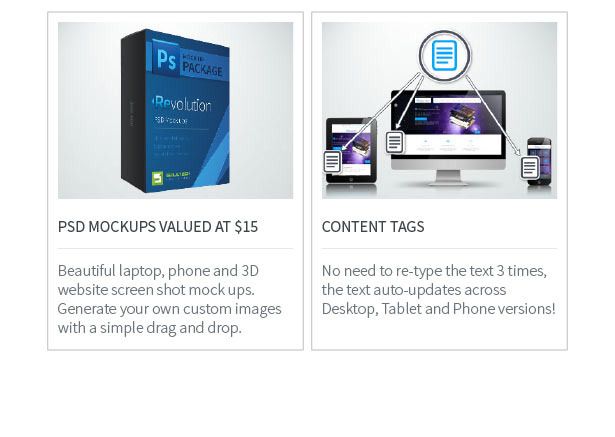 Features full list:
Responsive Muse Template (adjusts to Desktop, Tablets and Phones)
Parallax Website
HTML Files Included
ALL elements have smooth state transitions
Revolutionary Full Screen Slide Show for Adobe Muse with animated text, buttons and images
Revolutionary Skilltech Hero Slider with 3 different layouts and custom animations
Video Backgrounds – YouTube Video Background Muse Template
ONE-CLICK Theme Color Change!
8 Predefined Full Color Schemes
One Page Design
Inner Pages Included
100+ Individual Page Designs
Smooth Page Scrolling even in Google Chrome – No more Chrome's choppy scrolling
Phone Version
Tablet Version
Beautiful Design
38 Muse Files included
Custom CSS3 Effects and animations
Pricing-Shopping Page
E-commerce store included (Ecwid)
ReStore – Custom Ecwid Template Included (unique online store design)
SnazzyMaps (custom Google maps in theme colors)
Blog Solution
Full Width Design (100% Width)
Font Awesome Icon Collection – 361 Free Icons
Content Tags
SEO Friendly
Animated Rollover Image Effects (CSS3)
Text, Image and Button CSS3 Animations
Animated Skill (Stat) Bars (Edge Animate – Valued at $7)
Advanced Animated Skill (Stat) Bars (Edge Animate – Valued at $7)
Animated Counters (Edge Animate – Valued at $11)
Instant JavaScript Animated Counters
Animated Pie Charts (Edge Animate – Valued at $10)
3D Website Screen Shot PDS Mock Up (Valued at $5)
Laptop PSD Mock Up (Valued at $5)
Phone PSD Mock Up (Valued at $5)
Perspective Laptop PSD Mock Up (Valued at $5)
Total Added Value of $28+ in Edge Animate Animations, PSD Mock ups, custom elements and Ecwid E-Commerce Muse Template
News Section
Beautiful, Multipurpose Portfolio/Projects/Photo Gallery Section
Parallax Backgrounds Muse Template
Predefined Paragraph Styles
Predefined Link Styles
Predefined Graphic Styles
Smart Composition Use
Multi-layered Compositions
User Activated Animations
Individual Service Pages
Individual Team Member Pages
Contact Us Page
404 Page
About Us Page
Extra Elements (Build More With Our Additional Elements)
Tabbed Panels
Accordion Panels
Bulleted Lists
Numbered Lists
Additional Content Sections
Optimized For Fast Loading
24/7 Support
Extensive Documentation
Native Muse Files Included (files without custom Scripts and Effects)
Support & Copyright
Our template comes with full all day support. If you have any questions or problems regarding this Muse Template, our team will be at your disposal 24/7. ALL delivered images used in the design are licensed under CC0 so you are free to do whatever you want with them (commercial use included). Some of the images included in the preview will not be included in delivery files. All company logos belong to their respective owners.
Latest Version
1.0 – Revolution – Version 1 – May 14 2015
Possibly related products